October 7-12, 2019. Vienna.
The project "Vocal workshops at the Vienna Conservatory" is carried out by

Foundation "Art for All Times"

and

Vienna Prayner Conservatory
Project Objectives:
   Improving the professional skills of students and teachers of the vocal departments of educational institutions.
   Development of pronunciation in vocal works in German
    Expansion of professional contacts
    Auditions by foreign opera agents and managers
    Concert practice - participation in two concert programs (concert hall of the conservatory in Vienna and a sacred music concert in the Temple)
    Exchange of professional experience
    The closest acquaintance with the educational process and the rules of admission / study at the Vienna Prayner Conservatory
    Obtaining a certificate - certificate of workshops completion
The project involves:
Professors of the Vienna Prayner Conservatory:
    Discipline "Peculiarities of pronunciation in the German vocal repertoire" – led by professor of the department of "Solo Singing" of the Vienna Prayner Conservatory Nadezhda Haverko (Vienna, Austria)
    Discipline "Opera repertoire" - led by the professor of the department "Opera Class", the head of the Opera Studio of the Vienna Prayner Conservatory, conductor Maksimilijan Cencic (Vienna, Austria)
Professor at the Gnesins Russian Academy of Music
    Discipline "Posing voice. Work on the Russian vocal repertoire "- led by the professor of the department" Solo singing "of the Gnesins Russian Academy of Music Ekaterina Starodubrovskaya (Moscow, Russia)
Audition Committee:
    Ekaterina Starodubrovskaya
    Maksimilijan Cencic
    Valery Serkin (Vienna, Austria) tenor, international artistic manager for opera singers
    Samantha Farber (Vienna, Austria) - founder and director of the specialized art agency "SonoArtists" (specialization - opera artists) 
PROJECT PROGRAM:
All workshops are held in the classes at the Vienna Prayner Conservatory,
concert - in the hall of the conservatory,
sacred music concert - in the Temple.
Dates: from October 7 to October 12 in the following disciplines:
Features of pronunciation and sound science in the German vocal repertoire (professor of the Vienna Conservatory N. Haverko)
Questions of vocal mastery (prof. of Gnesins Russian Academy of Music E. Starodubrovskaya.
Opera class (M. Cencic - conductor, professor. Head of the opera studio of the Vienna Conservatory.
October 10 - audition. Program: 3 of any arias (not connected with the list of works for workshops). The following are performed at the audition: one aria - at the choice of the participant, the second aria - at the choice of the commission.
October 11 - Concert of workshop participants in the Prayner Conservatory Concert Hall / grand closing, issuance of certificates of completed workshops
October 12 - a concert in the temple (sacred music)
*** Within the framework of the project, a general meeting of participants will take place - an acquaintance with the directorate of the Prayner Conservatory
*  The principle of work is complete immersion, the acquisition of new contacts, mastering the skills.
LIST OF WORKS FOR WORKSHOPS IN THE VIENNA PRAYNER CONSERVATORY
(works can be chosen from any group)
group 1
J.S. Bach "The day brings the light of dawn" Es kostet viel, ein Christ zu sein ...

"My soul sings" Kommt, Seelen, Dieser Tag

"Life is good!" Gott lebet noch

L. van Beethoven "Flower of Miracles" Das Blümchen wunderhold

"Satisfaction with life" Der Zufriedene

May Song Mailied

Flaming Color Feuerfarb

J. Brahms "Lullaby" Wiegenlied

"In the Rain" Regenlied

Maiden Song by Mädchenlied

V.A. Mozart "Children's Games" Das Kinderspiel

"To Chloe" An Chloe

"Daphne, you are my joy ..." Daphne, deine Rosenwangen

"To Joy" An die Freude

"The Coming of Spring" Im Frühlingsanfang

"Violet" Ein Veilchen

"Peace" Die Zufriedenheit

F. Schubert "Bliss" Seligkeit

Wild Rose by Heidenröslein

"To the moon" An den Mond

"At Dawn" Im Abendrot

Trout Die Forelle

Jeweler Apprentice Der Goldschiedsgesell

R. Schumann "The Evening Star" Der Abendstern

"Like a lily of the valley, you are beautiful" Du bist wie eine Blume

The Moth Schmetterling

Lotus Die Lotosblume

Hazel Der Nußbaum
group 2*. Arias to choose from 
Soprano:

1. W. A. Mozart "Durch Zärtlichkeit" (Blondchen) aus Die Entführung aus dem Serail

2. W. A. Mozart "Ach, ich fühl's" (Pamina) aus Die Zauberflöte

3. W. A. Mozart "O zittre nicht" (Königin der Nacht) aus Die Zauberflöte 

4. O. Nicolai "Nun eilt herbei" (Frau Fluth) Die lustigen Weiber von Windsor

5. J. Strauss "Klänge der Heimat" (Rosalinde) aus Die Fledermaus 

Mezzo-Sopran & Alt:

1. J. Strauss "Ich lade gern mir Gäste ein" (Prinz Orlofsky) aus Die Fledermaus 

2. R. Strauss "Wie du warst! Wie du bist" ( Octavian) aus Der Rosenkavalier 

3. R. Wagner "Weiche, Wotan, weiche" (Erda) aus Rheingold 

4. W. Kienzl "O schöne Jugendtage" (Magdalena) aus Der Evangelimann

Tenor:

1. W. A. Mozart "Dies Bildnis ist bezaubernd schön" (Tamino) aus Die Zauberflöte 

2. C. M. v. Weber "Nein, länger trag ich nicht - Durch die Wälder" (Max) aus Der Freischütz 

3. R. Wagner "Willst jenes Tags du nicht" (Erik) aus Der fliegende Holländer

4. F. Lehár "Dein ist mein ganzes Herz" (Prinz Sou-Chong) aus Das Land des Lächelns 

Baritone:

1. R. Strauss "Lieben, Hassen, Hoffen, Zagen" (Harlekin) aus Ariadne auf Naxos

2. R. Wagner "O, du mein holder Abendstern" (Wolfram) aus Tannhäuser 

Bass:

1. W. A. Mozart "In diesen heilgen Hallen" (Sarastro) aus Die Zauberflöte 

2. W. A. Mozart "Solche hergelaufne Laffen" (Blondchen) aus Die Entführung aus dem Serail
Songs*
F. Schubert "Im Frühling" D. 882

R. Schumann "Widmung"'Op. 25, 1
SACRED MUSIC (for performance at a concert in the Temple) to choose from:
spiritual song, madrigal,
Arias from oratorios, cantatas, masses from the Renaissance to the end of the 19th / beginning of the 20th century.
Those wishing to take part in the concert program in the Temple must send the names of the works of their choice by September 10 to compose the concert program.
LECTURERS AND PRODUCERS

VALERIY SERKIN
Valeriy studied choir conducting at the Kharkov Music College in Ukraine, before graduating as a lyric tenor from the Gnessin Academy in Moscow. He performed at opera houses and festivals such as Opéra National de Paris, La Monnaie Brussels, San Francisco Opera, Théâtre du Châtelet Paris, Teatro Sao Carlo Lisbon, Teatro Reggio di Torino, Zürich Opera, Volksoper Wien, Deutsche Oper am Rhein Düsseldorf, Theater Bonn, Nantes, Luxembourg, Liège, Valladolid, Festival d'Aix-en-Provence, Bregenz Festival, Concertgebouw Amsterdam, Konzerthaus Vienna, Hamburg, Tokyo, Washington, Los Angeles, and Stanislavsky Theatre Moscow, among others.
He joined TACT in 2009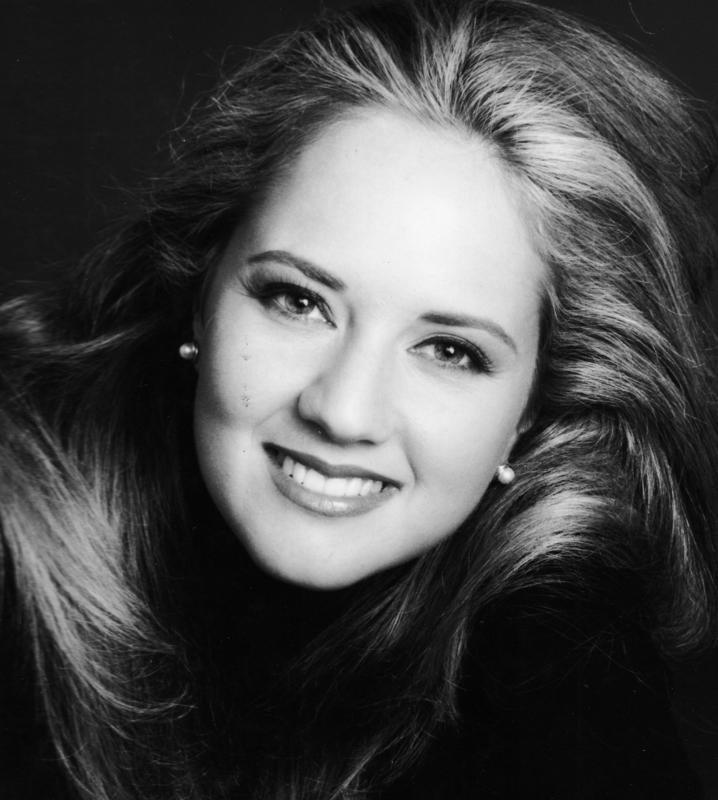 SAMANTHA FARBER 
Vienna-based opera entrepreneur Samantha Farber grew up in Paris, France and Westport CT, graduating with a BA in French and Italian from NYU in 1992. Her first steps working in the opera business was as an intern at Columbia Artists Management for Peter Gelb but her full involvement with opera began in 2000 with a move to Vienna with vocal studies. In 2008 she founded her own artist agency, Sono Artists, which was launched with a PR project for Diana Damrau timed to her first US recited at Carnegie Hall. Since then, she has managed dozens of opera careers, and has recruited many young singers and helped them develop their careers and has established a world-wide network of casting directors.
She has done PR work for renowned singers including Diana Damrau, Marina Rebeka, and tenor Saimir Pirgu to name a few. Mrs. Farber is also on the jury of the Hilde Zadek International Singing Competition, The Nico Dostal Competition, The Otto Edelmann Competition, and was part of the jury of AIMS in Graz in 2015. She also taught an Artist Management course at the University of Music and the Performing Arts Vienna in 2017.
Mrs. Farber is also active in the audio-visual arena, and in 2012 founded Sonostream.tv, a live-streaming and VOD platform for the performing arts for world-wide distributionand has broadcast many live programs including operas with the legendary Gruberova, Diana Damrau, Joseph Calleja and Ludovic Tezier, while co-producing a recording of Lucia di Lammermoor that was released on the Warner Classics label in 2015. Important collaborations have included with Theater Basel, Theater an der Wien, the Grafenegg Festival, Styriarte, Malmö Opera, SWR TV in Germany, Austrian state broadcaster ORF, and the Bertelsmann Foundation Neue Stimmen Singing Competition, BBC Cardiff Singer of the World in 2015, Birgit Nilsson Museum, Rossini in Bad Wildbad, Arthaus Music and Francois Roussillon et Associés.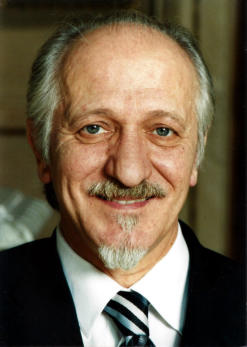 MAKSIMILIJAN CENCIC
Maksimilijan Cencic Geboren 1951 in Rogaska Slatina-Slovenijen ( ehmaliges-Yugoslawien ).Vater von Maks - Emanuel und Lana Cencic.Das klassische Gymnasium ( 1970 ) und die Akademie für Musik ( 1976 ) wurden in Zagreb ( Croatien ) absolviert.Während des Studiums besuchte er mehrmals Sommer-Meisterklassen,u.a. bei Kurt Masur ( Weimar ), Igor Markevic, Karlo Zecchi (Wenedig), Piere Dervaux (Nice) u.a.In den Jahren 1976-1978 - war er Assistent von Waclav Neumann ( Tschechische Philharmonie- Prag)1981-1983 war er Assistent bei mehreren Gastreisen mit Lovro von Matacic.Sein Debüt war 1976 in der Kroatischen National Oper-Zagreb ( Madame Butterfly) wo er von 1978-1991 engagiert wurde.Von 1991 bis 2014  war er Dirigent in der Wiener Staatsoper.Am Prayner Konservatorium - Wien unterrichtet Maestro Cencic seit 1998 die Dirigentenklasse und ist musikalischer Leiter der Opernklasse.Das Repertoire von Maestro Cencic umfasst alle musikalische Gattungen von symphonischer Musik bis hin zu Oper und Operette.Außer als Dirigent ( Gastspiele, Opernhäuser, Festivals, u.s.w.) ist Maestro Cencic auch als Klavier Begleiter, Sänger, ( Wiener - Tschuschen a capella Quartet ), Arrangeur und Leiter der verschiedenen Meister- Klassen tätig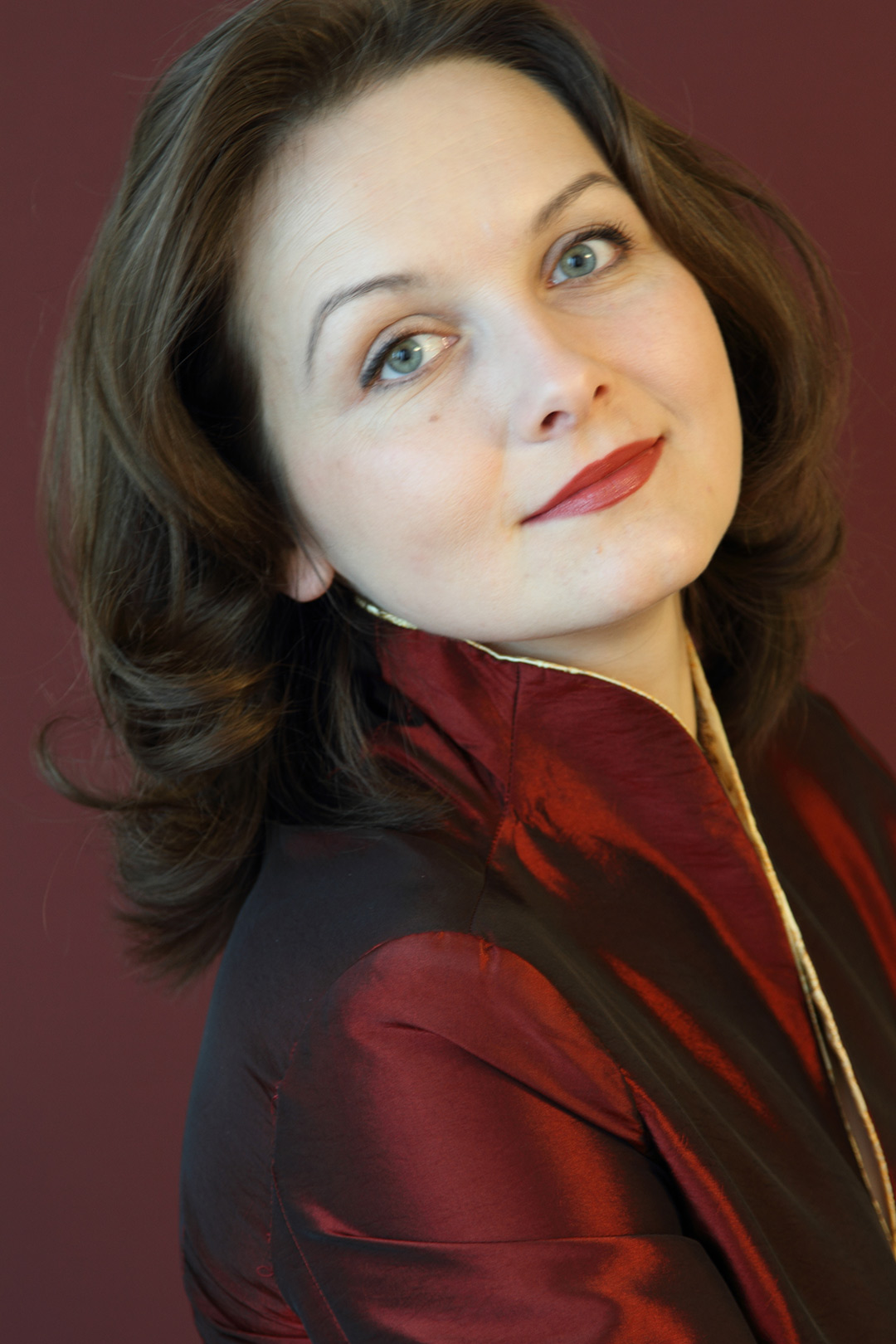 NADEZHDA KHAVERKO
Mezzo-soprano, professor.
She graduated from the Lviv National Music Academy named after N.V. Lysenko, then continued her studies at the University of Music and Performing Arts of Graz (Vienna / Austria) at the vocal and vocal-pedagogical faculties. She graduated with honors, receiving a master's degree.
The repertoire of the singer covers works from the Baroque era to the present. She sang in the productions of the Opera House and the Theater im Palais in Graz, the Theater an der Wien as part of the KlangBogen festival in Vienna, the operetta festival in Bad Ischl. She took part in premiere performances of works by contemporary composers: Victor Fortin's church opera Franz Jägerstätter (Graz and Linz), in the Opera of the Future projects at the Graz Opera House. Sings in concerts of cantata-oratorio and chamber music. She performed in Austria, Ukraine, Germany, Italy, Poland, Japan.
Along with concert activity, she has over 20 years of teaching experience. Nadezhda Khaverko conducts a class of solo singing, chamber music and a vocal ensemble. She also teaches at the Graz University of Music and Performing Arts.
She leads such disciplines as "Russian for the stage" - a course on stage pronunciation and a repertoire for students of the vocal faculty of the conservatory.
The author of her own methodology of the course "Work on pronunciation in the German vocal repertoire".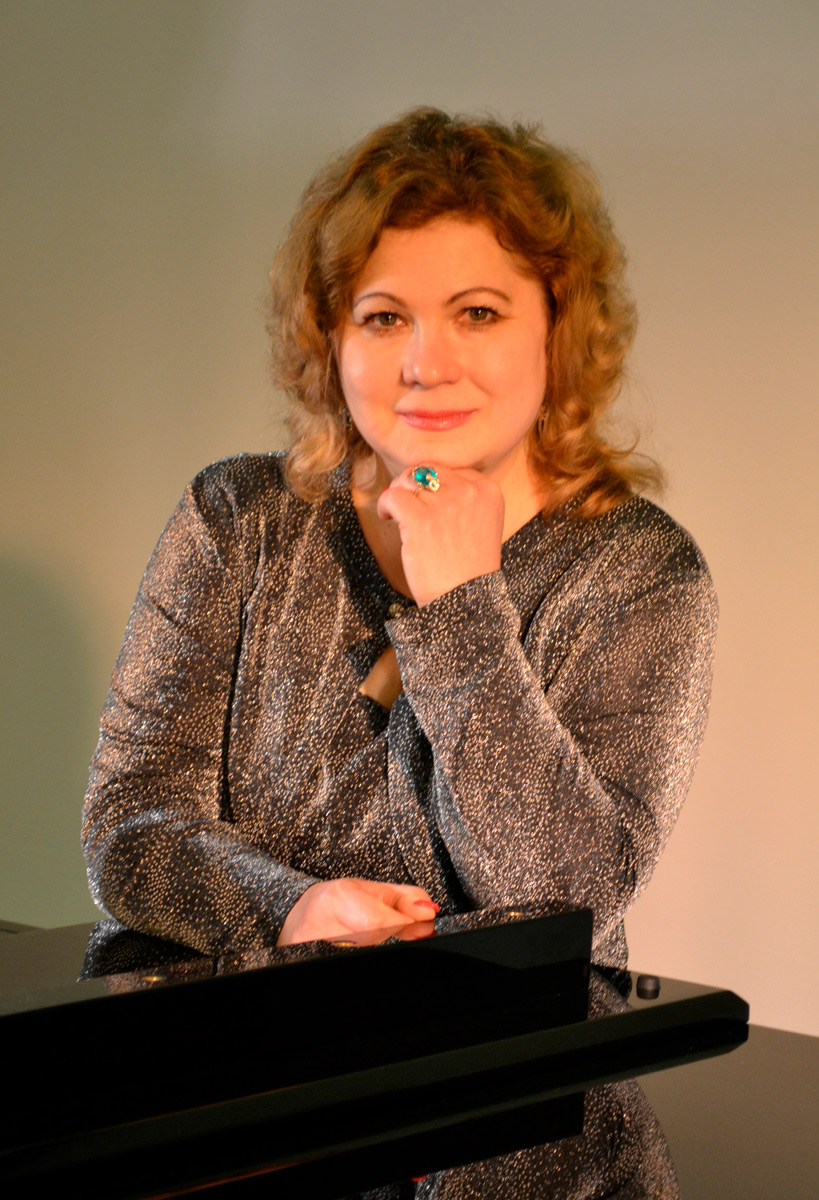 EKATERINA STARODUBROVSKAYA
Professor, Department of Solo Singing, Gnesins Russian Academy of Music (Moscow)
Concert chamber singer (soprano), laureate of international competitions. Grand Prix holder at international vocal competitions in Italy (2005), Russia (2013), Poland (2014) and Finland (2014). She participated in the jury of 78 International and All-Russian competitions (Russia, Italy, Portugal, Kazakhstan, Lithuania, Ukraine, Finland, etc.). She worked at the KBS Media Conservatory in Seoul (South Korea), at the Togliatti Summer Creative School, at the international Lear courses. Her class was completed by 30 graduates, many of whom successfully sing in theaters in Russia and abroad, and also work as vocal teachers in higher and secondary educational institutions. E.V. Starodubrovskaya prepared more than 50 winners of All-Russian and International competitions. She performs at concerts in Russia and abroad, performing both with solo concerts and with chamber orchestras.
For many years of successful creative, pedagogical and charitable activities, E.V. Starodubrovskaya in April 2014 was awarded an honorary public award, the medal "Ascetic of Enlightenment", and in October 2014 she was awarded the Honours of the Minister of Culture of the Russian Federation V.R. Medinsky.
The Prayner Conservatory was founded in 1905 in Vienna. The world-famous training center prepares young musicians for a professional artistic career. More than 900 students from more than 60 countries receive a thorough and practical education in two disciplines: classical and jazz.
Particular attention is paid to providing young students with the possibility of concert performances as soloists, as well as with ensembles or orchestras.
Conservatory website:  http://www.konservatorium-prayner.at/de
Адрес:Address: 1040 Wien, Mühlgasse 28-30 
Issuing air tickets, railway tickets, hotels, visas.
Permanent tour operator: Holiday Max
e-mail: [email protected]
website www.holidaymax.ru
+ 7 (495)105-94-41
For participation in the master classes program:
[email protected]
FB group: https://www.facebook.com/groups/operamasters/